info | rules | route | schedule | flashback | movie

---
"Croix-en-Ternois track event"
(12th edition, with Safe Driving & Stroker Motorcycles)
Sunday, May 15th, 2011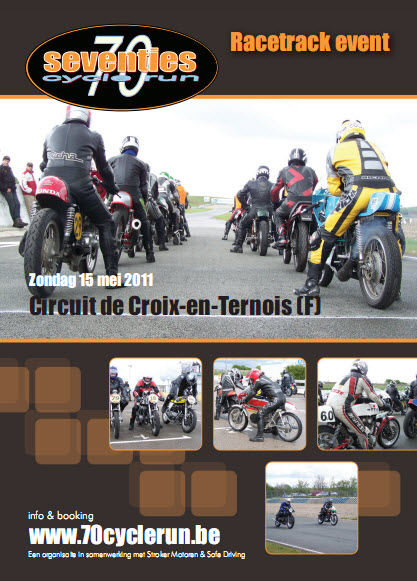 click to enlarge flyer



Take a look at the pics | subscribe here!
13 years in a row we organise the "70's Cycle run track event" on the circuit of Croix-en-Ternois. This is an event for beginners as well as for the more advanced amateurs.
Do not think: 'This is nothing for me', you're wrong! The idea is that everyone with a 70's bike, can taste the atmosphere of a circuit. The purpose is to become acquainted with circuit driving or to improve your skills under supervision and in a group with motorcycles of the same type. No wrong-way drivers, no side streets, perfect asphalt ... ideal circumstances to drive your motorcycle!
Everything is done with the guidance of experienced circuit drivers and with the appropriate safety equipment. Therefore, watch our circuit rules.
The participants are divided into three categories according to experience or preference:
Group 1:sport(little or no experience)
Group 2: supersport (any form of experience | sporting experience)
Group 3: speed (been on a circuit more than once | classic racers | fast riders)
Since the 2001 edition our track event is in April / May so that we can enjoy both driving and a sunny day in early spring.
You can participate in 5 sessions, of which 2 sessions arewith someone driving ahead (2 x 30') and 3 free sessions (3 x 20'). The guy driving ahead shows you the ideal line, the right brake point and where / how to take every bend... The free sessions last for 20' for security reasons. 20' of driving is very exhausting and needs your complete concentration. More details in the schedule.
The circuit CROIX-EN-TERNOIS (F) is a short (1900 m) but technical circuit, so therefore no high speeds are reached. It's actually very appropriate for beginners. Croix-en-Ternois is close to the northern French town of Saint-Pol (between Arras and LeTouquet Paris-Plage). Look at the roadmap.
You can participate if you subscribe in advance. This is possible until May 1st, 2011. The number of participants is limited! Approximately 2 weeks before the track day, you will receive a confirmation of your registration and directions, rules, time table and day schedule.
NOTE: If you want to subscribe after May 1st, you pay € 105 for organisational reasons.
Saturday night, there it is possible to camp from 18h00.
Included in the price: a coffee + a bun, initiation with driver + free driving.
The organisation may:
- add you to another category if necessary,
- refuse your subscription for this track event if the max. number of participants has been reached.
Therefore... subscribe a.s.a.p. !
- Peter De Clerck, Ketterijstraat 32, 9988 Watervliet, +32(0)9.379.09.46 (T+F), email
- Stroker Motoren, Kortrijksestraat 415, 8500 Kortrijk, +32(0)56.35.65.63
- Safe driving (Brugghe Harry), Werfwegel 1, 8800 Roeselare, +32(0)51.22.33.55